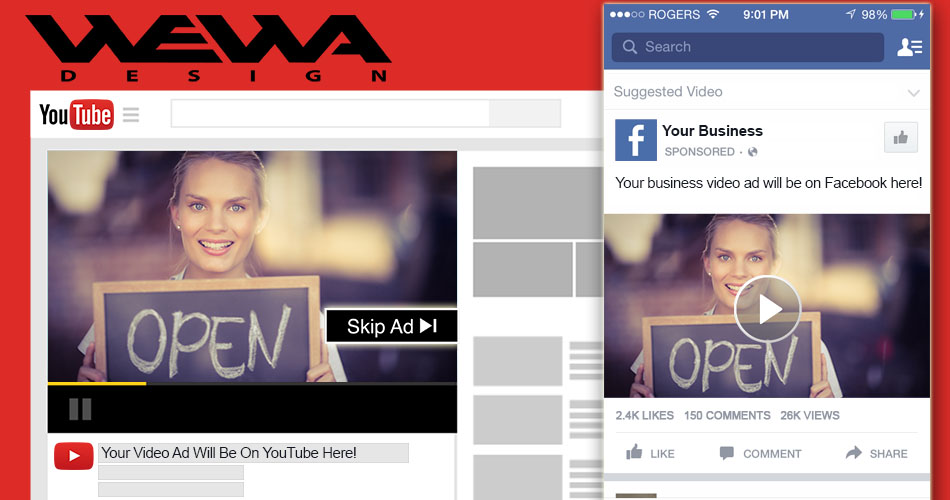 Edmonton Video Ad Online Marketing
Video Ad on YouTube /

Facebook

WEWA helps our customers to advertise their video ads on YouTube via Google AdWords. We manage their advertising campaigns and to maximize their exposure to their potential market.
Huge Opportunities
Billion of Online Viewers Daily, Each Viewer Can See Your Ads On His/Her Smartphones, Tablets, Computers
Cost Effective
You Pay Only On Real Views. Much Cheaper Than Printing Flyers But
40x
More Viewers (See Table Below)
Pinpoint Interested Viewers
You Select What Location, Time, Language, Age, Gender, Interests, Keywords To Show Your Video
---
30 Sec Video Ad Design
*New Quick Style - 30 Seconds Video (Web, YouTube, Facebook Ready)
(Photo & Text Design with Voice-Over, Music, Special Effects and Computer Graphic & Animation)
---
Professional Custom Video Design
Creative Video Services Include:
Animated Videos | Product Demos | Company Overviews | Advertisement | More
Please contact us for more information and estimation.
Comparison Table
With the Same Advertising Budget: $1000
(For comparison purposes the budget is set to $1000. )
Full Color Flyers
Type of Advertisement
Additional Delivery Cost

Total Cost

Max. Reach / Impressions
Watched Views
Select Location(s)
Target on Interested Viewers
Full Statistic Report
View On Computers
View On Smartphone & Tablets
Link to Your Website
This is the 1st item
This is the 2nd item
Full Color Flyers
2500 Flyers (40¢ each)
Canada Post: $395 (15.8¢ each)

$1,395

2,500
Unknown
Some
No
No
No
No
No
This is the 1st item
This is the 2nd item
Local Edm TV*
1 to 2 (30 Seconds) Spots
$0

$1000

~ 65,200*
Unknown
No
No
No
Some
Some
No
This is the 1st item
This is the 2nd item
YouTube
YouTube Video Ads
$0

$1000

~ 30K~50K†
2500‡
YES
YES
YES
YES
YES
YES
This is the 1st item
This is the 2nd item
* BBM Canada PPM, Edmonton EMA, Sep 12-Dec 18, 2011. Average Maximum Number of Viewers of CTV Edmonton (65.8K) & Global Edmonton (64.6K), in Top 10 Local News Ranking.
† Approximated Number, depends on various factors (e.g. Length, quality, design of the ad, targeting regions and audiences), generally 7 to 11 times of the Watched Views.
‡ Watched Views: The viewer engages with the video ad or watches 30 seconds of the video ad (or the duration if it's shorter than 30 seconds), or engages with your video, whichever comes first. Watched Views based on the Cost Per View (CPV), in this Comparison, total cost is $1,000, each view is $0.20. CPV can be various based on the competition of the targeting regions and audiences.